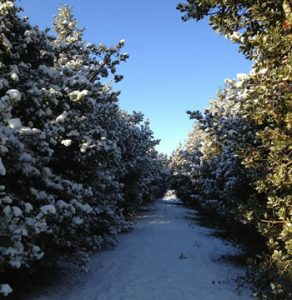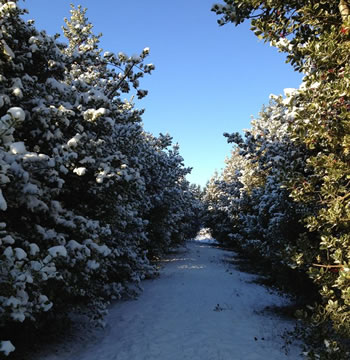 At Mill Creek Holly Farms, we specialize in high quality, stunning holly arrangements. Each holly piece is lovingly handmade, per order. We do not make large quantities of any of our products in advance. The product that you receive or send as a gift is as fresh as possible.
Our farm is located in Stayton Oregon, along the banks of the beautiful Mill Creek. Holly thrives in the temperate climate here in the Pacific Northwest, tucked between the mountains and the Willamette Valley. We offer both English Green Holly and the ever-popular Silver Variegated Holly.
History of the Farm
The farm was purchased by the Harteloo family back in 1958, and today, Don and Sue Harteloo operate this family-owned business, dedicating their energy to tending the land and creating remarkable holly arrangements including fresh wreaths and Christmas garlands.
Mill Creek Holly Farms is located in Oregon's lush Santiam Canyon where nature has provided just the right proportion of sunshine and moisture for English Holly to grow abundantly. Along Mill Creek, in a mild climate with an average rainfall of 52.5 inches a year, English Holly flourishes.
Outside the farm, neighbors work together to preserve the lovely, small-town life of Stayton, Oregon. Stayton is a community rich with vitality, where residents and business owners come together to build a thriving community.
The People
We are grateful for the 22 years Jose Manzo has served as our farm foreman. He is a master craftsman with more than 35 years of experience in the holly industry. He meticulously tutors his sons and others with whom he works. Whether we craft your wreaths, swags, centerpieces, or beautiful Christmas garlands, you will see the quality of work, evident in the finished product.
We are blessed to have product designer Sharon Rose Brand on our team. Sharon is a Certified Master Gardner who shares her skills and expertise with the ideas behind each hand-crafted holly decoration.
Popular Across the Country
Over the years, the Christmas holly farm has grown from a hobby with local following to an established business that ships its products all over the country. We've evolved from selling simple holly cuttings to creating custom holly gifts.
From our family to yours, we guarantee your satisfaction with Mill Creek Holly products.
Don & Sue Harteloo
Harvest at Mill Creek Holly